The Umbraco CMS allows Born Digital to build easy to use tailor-made solutions for our clients. The great editor experience it brings out of the box allows us to focus our development efforts on the trickier requirements a web application might have.
One of the reasons why we have confidence in the Umbraco ecosystem is the clear communication from Umbraco HQ, including around support timeframes for the different versions of the product.
Umbraco have a clear roadmap with long-term support (LTS) versions that are aligned to LTS versions of Microsoft .NET. For example, the upcoming Umbraco 10 will be an LTS version based on the recently released .NET 6, which is also an LTS version.
Support for specific versions
Umbraco 7
Umbraco 7 is in the security-only phase of its lifecycle, which means only security issues are fixed. It will reach end-of-life in September 2023. This doesn't mean that websites will stop working in October 2023, but it does mean that any newly discovered security vulnerability would not be fixed. It is therefore not recommended to use Umbraco 7 after September 2023.
Note - instructions on how to find your Umbraco version are included later in this article. 
Umbraco 8
Umbraco 8 will have one more minor version release soon (estimated Q1, 2022), and will be supported for 2 years for bug fixes and then a further 1 year with security-only phase. Therefore, end-of-life of Umbraco 8 should be expected around Q1, 2025, so it is likely you will upgrade before then when updating your UX.
What about your website?
Talking about future versions of Umbraco is all good and well, but what does this mean for your current Umbraco website?
We understand that our clients have varying expectations about the life of their website. Any major upgrade or rebuild will need to be planned and budgeted for in advance so we would like to discuss the specifics of your site to keep you on a supported version of Umbraco. 
How to find out your current Umbraco version
When logged in to the Umbraco backoffice, click the Help icon (bottom left in Umbraco 7, top right in Umbraco 8 and newer), the slide out content will state the version number at the top.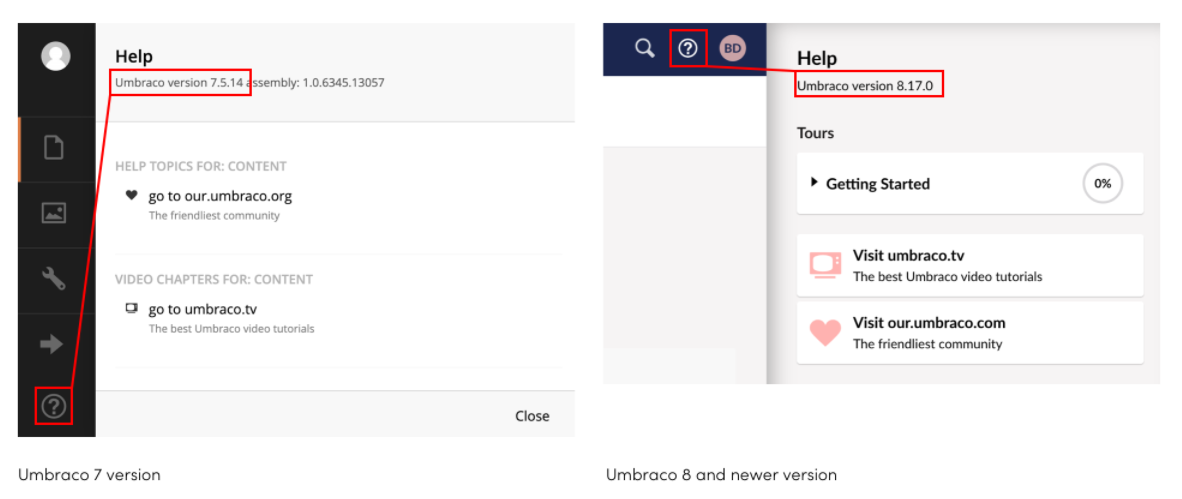 Upgrade or Rebuild?
To decide if a website should be upgraded or rebuilt depends mainly on your answers to the following questions:
Does your website still look and feel like a modern website or does it feel dated and in need of a refresh?

How much content does your website contain? How much time would be required to content load all (relevant) content into a new CMS?
If you are happy with the look and feel of the site and have significant amounts of content, an upgrade sounds like the right option. We will review plugins of your site and advise what's involved in getting the site onto a long-term-supported version of Umbraco.
If you think your website needs a refresh, it might be a good opportunity to review the UX and sitemap and get a modern, slick and user-friendly frontend.
We are here to help you work through the options.
Born Digital is here to help
Since 2015, Born Digital has been building, upgrading, migrating, and re-building Umbraco websites since version 7 of Umbraco. If your site is built on Umbraco 7, we recommend that you start planning the future direction for your sites and we are available to help you investigate different options and timings. 
As a team we have have supported website projects across a range of requirements:
New Umbraco website design and development
Website upgrades / migrations / rebuilds to newer or current versions including minor and major releases
Inherited Umbraco websites that have been built by other agencies and delivered improvements in terms of administrative experience, performance, code, features, functionality or integrations
Migration of existing websites from other platforms such as WordPress to Umbraco CMS
Delivered simple brochure websites to complex multi-tenanted or multi language websites
Connect with our team today and we will guide, plan and support your website re-build.  You don't need to be an existing customer of ours, if you require a new Umbraco web agency please get in touch.
Further reading: